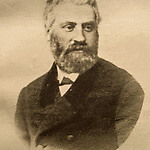 Alexandre Bigot, a science teacher working in Alsace, resolved to experiment with pottery after seeing Asian ceramics displayed in Paris in 1889. He exhibited his early work, small simple vases and plates with applied newts, frogs, and snakes.... somewhat in the manner of earlier French master Bernard Pallissy.... in 1894. That year, Charles Holme (of The Studio, London) remarked on Bigot's exhibit, "the whole of [Bigot's] exhibit was modeled by his own hands," setting Bigot's work apart from not only from those who worked with apprentices but also from Bigot's factory-made products.
Read More
Soon after Alexandre Bigot resolved to become a potter, he established his own workshop in Mer (Loir et Cher). There he began to teach himself all aspects of ceramic production and before long abandoned teaching to pursue a full-time career in ceramics.

When architectural ceramics were introduced at the Universal Exhibition of 1889, the call for such work quickly expanded. In 1897 Bigot turned his firm into a joint-stock company. He moved his Parisian shop from Rue d'Assas to Rue des Petites Ecuries and built a factory at Aulnay (near Mer), where where he eventually employed more than 100 people and operated 10 industrial kilns. As the leading player in the field of architectural ceramics, he was commissioned to work with the greatest sculptors and architects of the time.

Meanwhile, he continued making individual figures, vases, tiles and other decorative ceramics in his Paris studio. His work was sold through Siegfried Bing's emporium, Maison L'Art Nouveau. Bigot produced architectural ceramics and art pottery until 1914, when he became a technical consultant in ceramics industry.